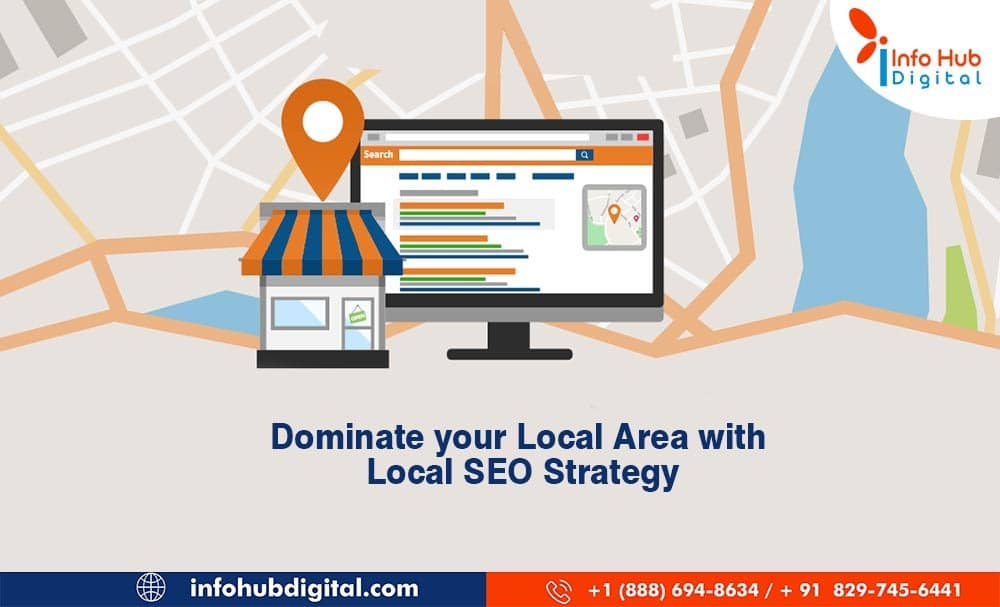 In the digital world, there is a lot of noise. With the primary objective of increasing sales, businesses are constantly looking for novel ways to connect with and draw in customers. Ranking highly in the search engine results is also one of the finest strategies to increase brand recognition. However, if you own a local firm, shouldn't you concentrate on the local populace? A local SEO strategy can help with that.
Let us first understand the polarity between local SEO and SEO.
Ranking highly on the webpage for both international and domestic searches is the primary goal of traditional SEO. The goal of a local SEO strategy is to raise your position in searches conducted nearby. 
Local SEO uses the same kind of SEO tools and strategies, such as creating high-quality content and optimizing websites. However, local SEO also uses additional strategies, such as adding your company to local directories, notably Googling My Business. 
Advantages of using Local SEO
A February 2019 survey revealed that 83% of American consumers utilized search online during the week prior to visiting the storefront that surfaced on the top results page.
45 percent of internet buyers worldwide choose to pick up their orders from local stores. Online searches have become more localized. The number of searches that include "near me" has increased dramatically between 2016 and 2019. (Examples include "supermarket near me" and "sushi restaurant nearby.")
You can benefit from chances that are literally just around the block with the aid of a local SEO strategy. This is why a comprehensive SEO strategy must include local SEO.
Workings of the Local SEO
Algorithms are used by search engines to provide the most pertinent results to users. Your duty is to ensure that you have a significant enough web presence to be found.
You may achieve this by adding your business to reputable directories, taking control of your local listings, obtaining citations and backlinks from reputable websites, and maintaining an active social media presence.
Additionally, you want to make sure that your company is connected to excellent, pertinent information.
Additionally, you want to utilize all of the SEO tools at your disposal. You are sort of leaving a trail for the different searches to follow.
Let us understand certain tips and tricks as to how Local SEO can dominate the market for you:
The profile of your enterprise should be updated on Google: A perfect match between your company's name, location, and phone number and those on company websites as well as other local listings is essential. The search engine can recognize your company as the same one across numerous websites thanks to consistency.
Not just the home page, but another specific webpage as well. a well-liked business page or your company's success story, for instance.
Publish images on your profile. A professional photographer is advised, but anything is preferable to nothing. People are visual beings who rely on their decision to interact with a local business, particularly those within the hospitality sector like restaurants and hotels, on the quality of the imagery. Choose the best business category and the suitable tags carefully.
Profess upon your local listings: Consumers in the area have a higher level of trust in businesses that are members of their business office. Other advantages will also be yours, such as networking events sponsored by the commerce chamber.
Publish testimonials from your customers: Customer feedback is essential. The greatest technique to generate reviews is to request positive testimonials from pleased clients on a certain website. A business might provide customers with a discount in exchange for reviews on sites like Yelp. A business owner might post a sign beside the cash register requesting reviews from patrons.
You can include a link to the relevant review page in your email newsletter asking for reviews, or you can utilize marketing automation to solicit reviews automatically from your most satisfied clients.
Make use of Long Tail keywords along with the Local keywords: Other than "home," give your home page a different name. Your title and description should draw readers in while accurately describing your company. Make sure this heading is descriptive, keyword-rich, and brief because it will be what potential buyers see on their SERPs page (SERP). Include regional keywords such as city names, street names, etc. 
Keep in mind that SEO is a long game. If you don't notice results immediately away, don't give up. It may take months or even a full year for a local search strategy to start paying off. The secret to dominating local search is consistency and attention in trying to keep up with content creation and regional trends.
Info Hub Digital, a prominent Digital Marketing Company in Pune has been working with domestic & overseas clients over the last few years helping them with 360-degree digital marketing services thus enhancing branding, visibility, and lead generation.
Read more blogs- How to understand the efficiency of your digital marketing agency?